Message from Mr. Henderson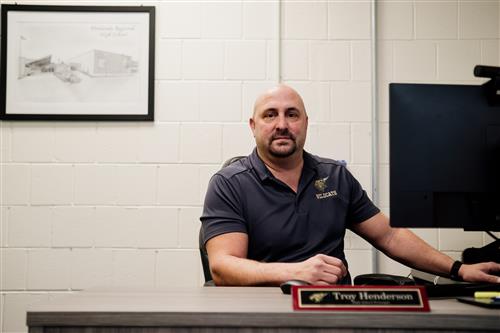 Greetings Wildcat Families,
Pinelands Regional High School strives to provide all of our students with a well rounded, challenging and rewarding educational experience. Our staff focuses on fostering their individuality, creativity, and love of learning while encouraging each student to find their own path to success.
Once a Wildcat, Always A Wildcat is something we say often at the high school. We believe that creating a sense of pride, teamwork and support for each other is important and life long. Many milestones await students as they begin their high school journey. They will have the opportunity to attend vocational school, take AP classes, driver's education, go on the senior trip, and much more. It is certainly an exciting time and our staff does an excellent job preparing them.
As principal at the high school, I believe families also play an important role in student success and that open communication between home and school is imperative. Our staff websites are an excellent resource for course overview, helpful links and teacher contact information. I encourage you to reach out with any questions or concerns.
Sincerely,
Troy Henderson
Principal
| Name | Title | Extension | E-Mail |
| --- | --- | --- | --- |
| Troy Henderson | Principal | 2201 | THenderson@prsdnj.org |
| Keri Seidenfaden | Secretary | 2201 | kseidenfaden@prsdnj.org |
| Nancy Bourguignon | Secretary | 2203 | NBourguignon@prsdnj.org |
| Matthew Maleski | Asst. Principal | 2288 | MGMaleski@prsdnj.org |
| Cheryl Gravatt | Secretary | 2288 | CGravatt@prsdnj.org |
| Amy Nass | Asst. Principal | 2144 | ANass@prsdnj.org |
| Justin Loomis | Asst. Principal | 2222 | JLoomis@prsdnj.org |
| Denise Bartholomew | Secretary | 2144 | DBartholomew@prsdnj.org |
| Marion Dewey | Secretary | 2222 | MDewey@prsdnj.org |